I hope you're all having a good Saturday morning! It's already a week ago that I heard I was finally graduated from high school and this week I had my graduation ceremony with a very fun party afterwards. But finding something to wear for this memorable event was quite difficult.. I knew that the guys would were a black suit and the girls would where dresses with glitter and high heels. I'm not really that type so I looked for a simple black dress that I could accesorize with cute bracelets, flats and hair pieces. And luckily I found my perfect outfit! In my last post I talked about my graduation, to view the post you can read it here.
This brought me to an idea to share with you some cute graduation party outfits from the cute brand Lulu's that you could wear and look amazing in. So here they are, let's start.
Dresses:

are not a part of my closet yet.. I know how can a girl not have dresses!? Well, I have one black dress I bought for this event but that's it. Maybe it's because I'm very picky and the dresses have to fit well. I think the way to look good is to not take it over the top and make it too much. Like dresses with too much glitter in their outfit or a dress that too long or short doesn't make it look better. To inspire you(also a little bit myself haha), I found some very cute dresses.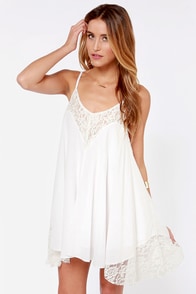 Sweet Dreams Ivory Lace Dress
from: Lulus.com
Purple dress:
in combination w
it the purple dress you could wear
some cute beige flats that make
your outfit classy but also festive.
Navy floral dress: yto add some
extra color and fun you could
wear pink flats. Looks cute and
effortless.
Ivory lace dress: any color and
sort shoes could be in combination.
But these coral flats are nice to wear.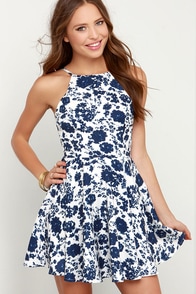 from: Lulus.com
Shoes and accessories: that you could wear in combination with dresses can be very simple if your dress is already with color and prints.
Yellow dress:
You could wear some white espadrilles if you want to stay comfortable. They looks always stylish and in combination with the yellow dress make your outfit complete.
Now you have your shoes and dress you can start experimenting with how you want your makeup to look(a natural look is almost always the best to do), what you do with your hair. Do you want a braid, or a cute hair piece or only straighten it. A tip for you(i've experienced it haha) to not try new makeup tricks and looks the day itself. This will make it a lot easier..
Pick some of your favorite jewelry pieces to make your outfit stand out but still like it's your style. Statement necklaces are very good and stand out. and finally dress to impress and have FUN!! :)
I hope you like my post, what is your favorite dress?